I started young, 23, and nobody thought to tell me that being a full time professional storyteller was impossible so I just went ahead and became one anyway and look what happened. Now I make my living visiting schools here in Australia as a full time storyteller. The Tax Office can't find a category to fit me but it's the only work I've ever known.
I guess I had a knack with kids and a good head for business. (Thanks Dad) After high school I attended an Art School in my home town of Adelaide, South Australia. I started the advertising/graphic design course but dropped out to be with kids. I wasn't sure how but I just knew kids were my future.
I took work in a childcare centre to find out and that six months was the happiest time of my life. Uninhibited 3 year olds climbing all over me showed me the way to myself and my heart forever belonged to them. I invented a style of storytelling that was funny, creative and right on their wavelength. The other staff told more traditional stories which had the kids staring blankly out the window but I invented my own, collaborating with the three year olds to find the funniest lines. My lunch table was always the most popular one to sit at.
When I left the centre at the end of the contract I produced a dummy rough of one of the stories and sent photocopies to nine Australian publishers. Two weeks later Hodder and Stoughton offered to publish the story with my illustrations. Their English parent company published Peter Pan so I felt honoured.
Then Mary Fairbrother, a theatre in education advocate, suggested I start telling my funny stories in schools for money. I didn't know any better so I tried.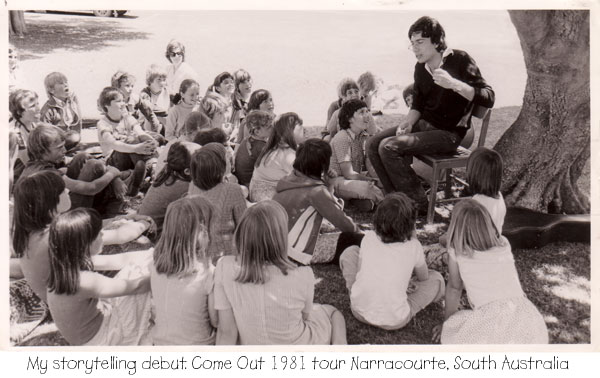 I designed my own brochure, that much I'd learnt at the Art School, and mailed them out. Teachers responded almost immediately. Some just liked my looks but I knew what I was really there for.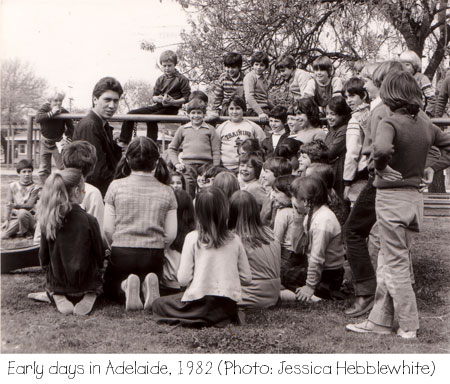 I'm like a stand-up comic for kids. My stories are original, no folklore or fairy tales here. With a clever character voice, which sounds exactly like a 3 year old boy, I make children fall on the floor laughing. Teachers complain of sore faces from smiling too much. My material is funny because it's true. Well half true anyway. I'm a lone wolf among other storytellers who probably hate me. To make one's sole income from storytelling is a dream to them but an every day reality for me.
Australia's national broadcaster, the ABC, recorded all my material and now sells these audio tapes at their many "ABC shops" all over Australia.
Hodders went on to publish 3 more of my picture books which I illustrated during school holidays when there was no work storytelling. Hodders sold 130,000 copies in Australia. Again my Art School training came in handy.
As part of my live performances I draw big pictures with lightning speed on a white board in front of the kids. They sit like gaping clams at this. Also between stories I invent songs on my guitar based on the names of the kids in my audiences. The Salesian Brothers ,where I went to school, taught everyone to play guitar. They were a very musical order and this also came in handy for my career. Mime classes with Marcel Marseau's old rival, Madam Zora Semberova, also helped my theatrical development. She was semi-retired and living in Adelaide. How lucky.
My work is also available on 2 video tapes. With the money I was making I hired pro cameramen and an Apprentice editor who worked on a Sean Connery/Michelle Pfeiffer film. Allow me to send you one as a preview of my work along with a colour brochure (which you may or may not be holding already ;)